Lemongrass fried field-mouse and coriander braised eel made traveler to Ca Mau fall in love
Coriander braised eel and lemongrass fried field-mouse dishes are the distinguishing culinary dishes of Ca Mau that any traveler in the road of the Mekong River Delta desires to taste.
Lemongrass fried field-mouse
Field-mouse meat has long been a specialty of people in the Mekong River Delta. People here can cook field-mouse meat into dried meat, distilled meat, crispy fried meat, etc. Travelers to Ca Mau often enjoy the field-mouse meat fried with lemongrass, which is easy to serve with rice differently.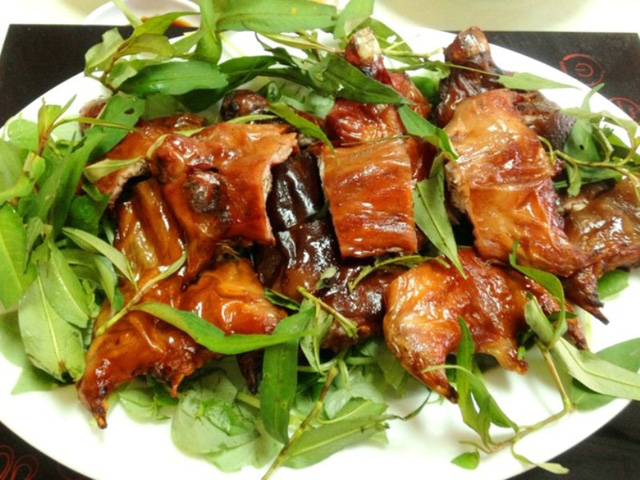 Lemongrass fried field-mouse dish is one of the distinguishing dishes of the Mekong River Delta culinary culture. Photo: I.T
Field-mice often live in fields and rice paddies; they dig holes on the edge of the field to shelter, grow and develop. Normally, in each harvest season, fat field-mouse has slick skin, delicious meat due to their food source of rice and snails, seedlings mainly. People just need to dig holes, put traps, catch mice, then there might be an interesting mouse hunt.
After being caught, cleaned, washed and dry, the meat is seasoned with chili and finely chopped, then add more salt, seasonings, fish sauce, a little sugar to spice up. Next, people bring pieces of prepared meat to fry in the stove until the meat turns golden brown and smells the aroma of meat, lemongrass and chili peppers. When we serve soft, sweet, fragrant field-mouse meat mixed with the spicy hot pepper, the aroma of lemongrass, with white rice really deliciously.
Traveler can enjoy the specialty of Ca Mau at U Minh Ha forest canteens for VND 90,000/ dish.
Coriander braised eel
In the land of the Cape, eel lives in ponds, dry ditches where contains dry straw. Normally people go fishing or put traps to catch eels.
To make the dish of Coriander braised eel, people choose golden brown, medium-sized eels, cleanse mucus by slurry with kitchen ash or by a mixture of salt and vinegar. Next, cut the neck, remove intestines, rinse and leave the whole meat to drain; this way make the eels remain the nutrients.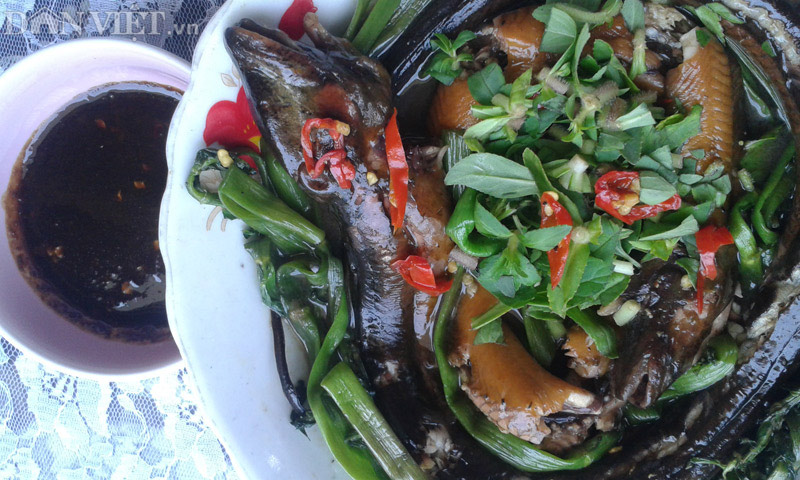 The dish of coriander braised eel made traveler to Ca Mau fall in love. Photo: Hai Miet Vuon
Coriander used for this dish is wild vegetables in the ponds, shallow ditches; their stem and leaves are blue-white. People cut the leaves, keep the stem and cleanse, put them in the bottom of pot and arrange the eels crossed through it, put a little sugar, salt, grinded pepper seasoning to absorb and then keep the pot on a small fire.
To make sauce, soy sauce is picked out to grind as puree, chop finely with chili pepper, golden roasted peanuts, pour into the mortar to mill the ingredients, but do not crush them all. Next, the milled ingredients are put together in a bowl, pour the coconut milk slowly, use a spoon to stir the mixture up until it becomes a paste, put a little sugar and salt. When serving the dish, you will feel the sweet aroma and the salty sweet and fat taste.
Coriander braised eel should be served when it is hot, with vermicelli. This is a nutrient-rich, delicious food without boredom to gourmets. Travelers to the forest of U Minh Ha can order the dish of coriander braised eel or the dish of noni leaf braised eel just for VND 160,000/ pot.
Article by Huyen Thanh (Dan Viet)
Most Recent Post
Links