"Ca Mau Cape" by Nguyen Vinh Hien won the first prize in the photo contest "Vietnam from above"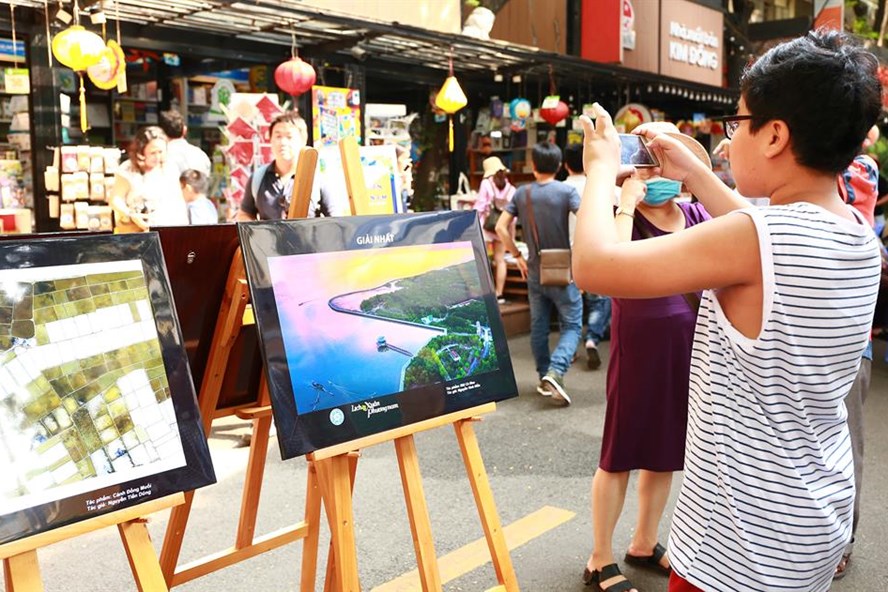 Viewers were interested in the 1st prize-won photo – "Ca Mau Cape". Photo: T.L
In the morning of September 09, 2017, at Nguyen Van Binh Book Street, District 1 (HCMC), Phuong Nam Spring Calendar Co., Ltd in cooperation with Ho Chi Minh City Photography Association held the award and opening ceremony for the photo exhibition "Vietnam from above".
The first Vietnamese flycam photography contest attracts the participation of most professional and semi-professional photographers nationwide.
After more than 4 months of launch, the contest has attracted 358 authors from 53 provinces and cities with 3,389 works with various themes from Ca Mau Cape to Tay Bac, from sea and island to mountain and forest, etc. From above, Vietnam appears with a fascinating beauty.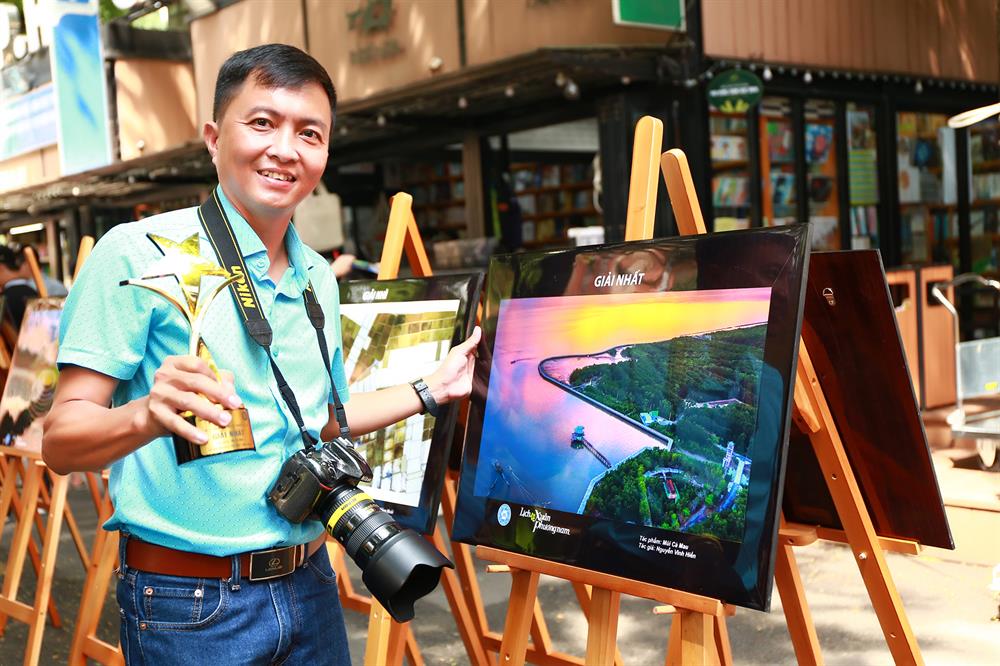 Photographer Nguyen Vinh Hien who won the 1st prize in the contest. Photo: T.L
 Honored to receive the first prize with "Ca Mau Cape" photo, the photographer Nguyen Vinh Hien (Vinh Long) said: "This photo was taken in an afternoon at the end of 2016. I "ambushed" there until the third day, the photo was taken. It was 17 :00 p.m, the evening clouds were very strange and beautiful, not too sunny nor too dark. The yellow sunlight and harmonious structure created the best photo for me. When shooting, I had a few minutes of tears because I knew that I had just caught a rare moment and I was successful !"
Mr. Nguyen Ha Quoc Anh – Director of Phuong Nam Spring Calendar Co., Ltd, Member of Jury said: " 'Ca Mau Cape' photo by Nguyen Vinh Hien that won the first prize was totally convinced by a new theme, the beauty of the cape at the southern pole of the country at the moment when the whole scene was rosy in the evening clouds, evoking many emotions. Ca Mau Cape was full of pride, lighting up the pride of the homeland of every Vietnamese who enjoys the photo.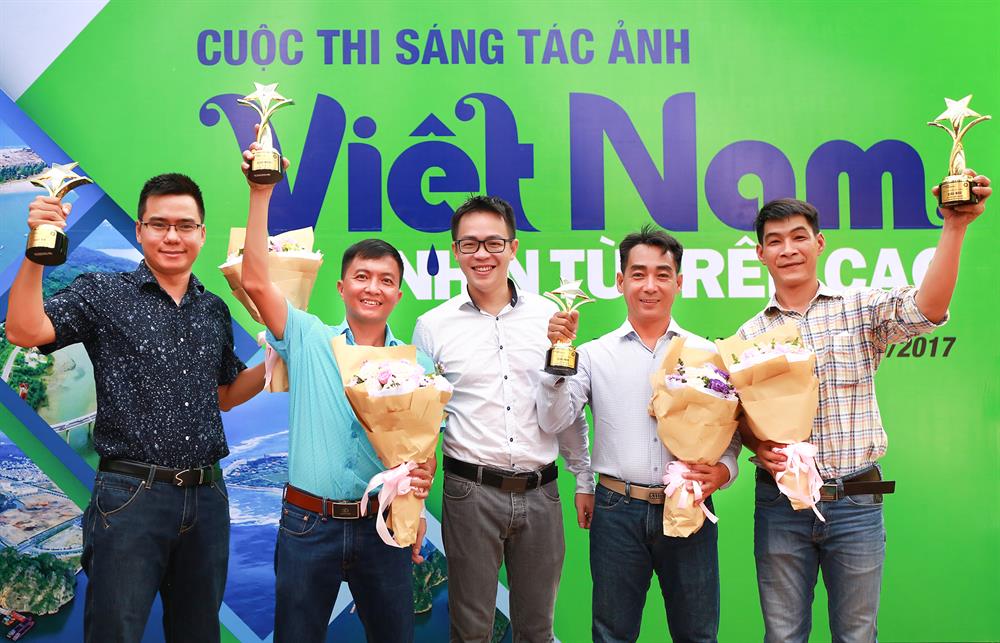 The Organizing Committee gave awards to excellent photographers. Photo: T.L
The "salt field" (The second prize) is surprisingly impressed by the color and lines of the central salt field which is like a lacquer painting full of art. The "Silt color" (The second prize) by Nguyen Hoang Nam illustrates the excitement in the daily life of fishers. The "Floating village on Lan Ha Bay" photo (The third prize) by Giang Son Dong made viewers amazed at the multicolored village hidden in the dark green mountain ravines. Reflecting nearly all landscapes from north to south, each photo made viewers surprised."
According to Mr. Quoc Anh, these excellent photos will be included in the calendar, thereby it will come to every one and the beauty of the elaborate works of photographers will be known by many people.
The exhibition took place from the 9th to19th of September at Nguyen Van Binh Book Street (Dist.1, HCMC).
 M.T (laodong.vn)
Most Recent Post
Links